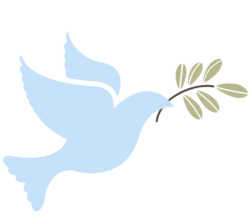 A website template for new companies including quality guarantee
Our website template - An introduction
European Social Label uses exactly the same tool to build someone else's website that is used to build their own websites, including www.eusl.eu which is this page. Our website template is flexible and easy to work with, each of which we can keep down the time from order to delivery. It is adaptable for both phones, tablets and computer screens and our target group is primarily new companies that want to make a healthy investment and get a quality guarantee on the purchase.
From other companies that work exclusively with websites, you often hear that you get what you pay for, which can probably be true to some extent. We encourage speculators to compare our template and its flexibility and quality through various SEO tools and the results you get back are often surprising. If you search on European Social Label, our website appears at the top with so-called "site links" below, something that Google rewards the most unique pages that also have the highest quality. European Social Label does not work with websites in general but has chosen to do so and offer results that are measurable
"A good website should be fast, responsive and easy to find - all this must be measurable, otherwise it will just be hearsay"
In all sizes, in all directions
Within the European Social Label, we have worked a lot with full screens, regardless of whether there is a lot or a little text. The reason is that based on what we want to achieve, we have a lot of information and take things in the right order. But all sections can be independently large and contain exactly what you want and we can create both vertical as well as horizontal directions on your website. 
European Social Label offers measurable results
When we started our business, we wanted to bring in consultants to build our first website. It was neither good nor particularly innovative and it was definitely not great. But it cost a penny. Every now and then the idea was born to be able to make our own website and after a lot of exercises, searches, students and several, in the name of honesty, failed attempts, we found the tools that spoke the same language as ourselves. The European Social Label works for an inclusive society and it is based above all on communication and dialogue. But building websites was none of that, but we experienced it as if the companies we communicated with highlighted themselves as something more and wanted to quickly end up in a dependent position and that without being able to tell what they could actually deliver. 
Our offer is a simpler website but with measurable results. Below are two pictures that show performance and quality on this page. To our customers, we guarantee at least 80% or points on both Google PageSpeed Insights and SEO Check. When we are hired, our customers get measurable results, all at a fixed price including a quality guarantee.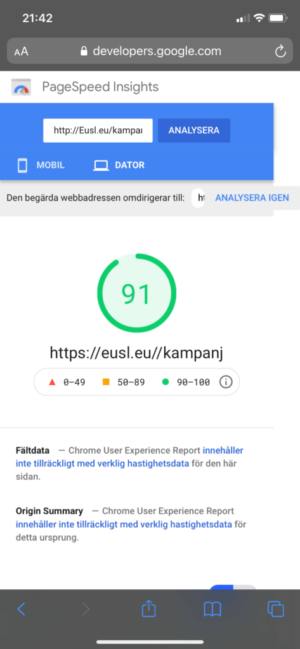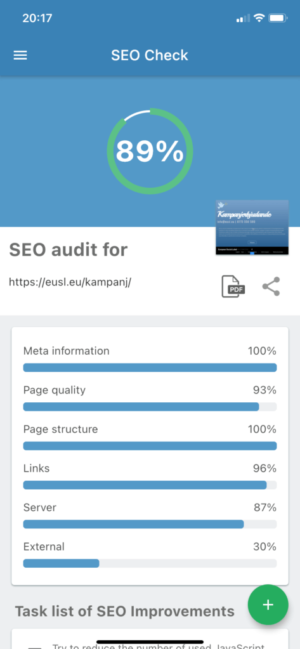 Example page 1 - Fiducia Sweden
We have built Fiducia Sweden for a customer in Halmstad who wants to create an idea-driven business to help more young people complete their studies and then offer the now former students a job as soon as they finish school. The activities aim to help more people get their first job while they can perform regular services in and around Halmstad on competitively strong terms. Fiducia Sweden's page is intended to be a way to tell about their activities in an informative way and to be perceived more as a book than a regular website.
Next to this you can see the performance and quality of the pages.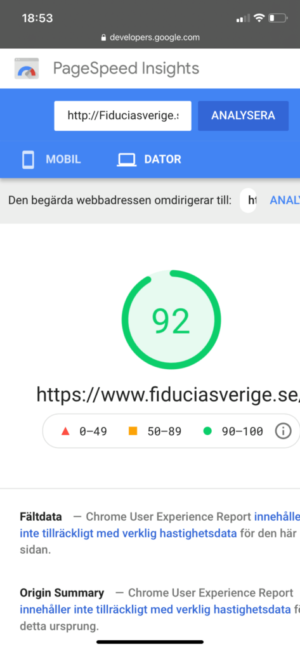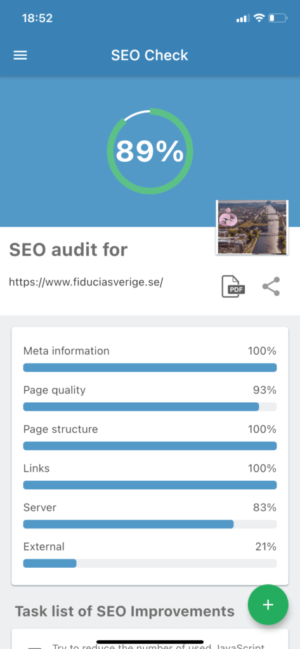 Example page 2 - Fiducia Assistance
Fiducia Sweden's one activity is personal assistance. In this case, it is an idea-driven business where the surplus does not go to the owners but is placed in various socially beneficial projects to employ young people outside formal school hours. The goal is that when Fiducia Sweden has followed some young people from a high school age and through high school, there will then be a service waiting for them at Fiducia Assistance - if they want it, of course. We think it is a brilliant way to help young people into working life and are happy to support this very nice initiative!
Next to this you can see the performance and quality of the pages.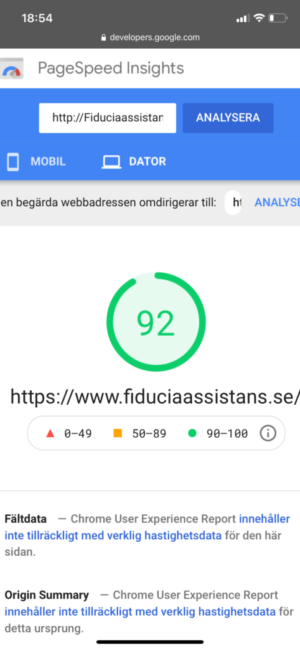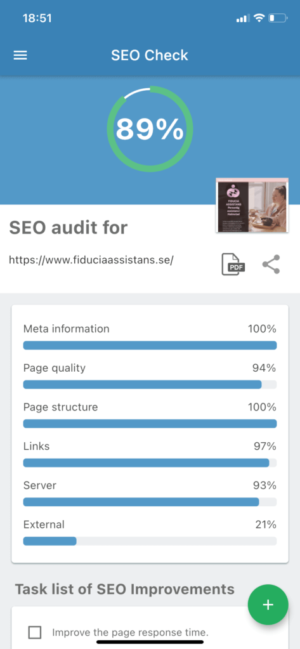 Hire the European Social Label for your next page
Contact us at info@eusl.eu or call 0775 550 500 to tell us about your project and we will do the best we can to realize it. We connect your page with your social media, set up desirable email accounts and if you do not already have a domain, we will look at it together as well. The price is SEK 1,990 for members of the European Social Label and SEK 2,990 for everyone else. In addition to the quality and performance guarantee, up to four tabs of information are included. 
We look forward to hearing from you!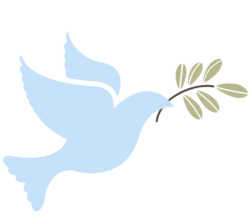 European Social Label can keep a lower price than others as the business is not run in a profit interest. Instead, the surplus that the business generates goes to our own foundation, the EUSL Foundation, which in turn donates money to charity. So when we are hired, our customers also know that they are involved and contribute to a better society. What then is a better society? We leave that question to our members and our customers, which in practice means that when we sell a website so in the dialogue with the customer, there is also the question of what they want their money to go to. Then we execute the customer's wishes and get both satisfied customers as well as a slightly better society to live in.